I got to thinking about my very favourite FO. Which of my many finished objects is the one that gives me the most pleasure? It changes from day to day - it's often the last thing off the needles.

Many years ago (in 1987, to be exact) 'im indoors bought me a book. It was this book: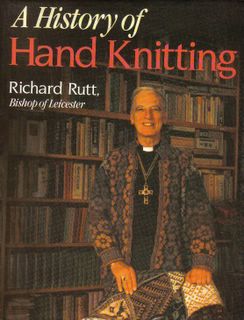 Richard Rutt, the then Bishop of Leicester, was taught to knit by his grandfather at the age of 7. He gave up knitting completely for twenty years when he was working in Korea. On return to England he suffered a sort of "reverse culture shock" and started knitting again to counteract this. Finding there was no record of the history of handknitting, he wrote one himself. This book is the result. It has been long out of print but is now available again. The picture on the front is not the same. I don't know why they do that. Would you want to buy a book with a picture of four people in funny hats knitting? No, you'd much rather have the one with the Bishop wearing his own-design Estonian Jacket, wouldn't you?

In all the pre-publication publicity (try saying that after a few glasses of Shiraz), he was prevailed upon to make the pattern available. I had to have it. It's made in Rowan yarns of various descriptions. Now Rowan's not cheap and then it was not only expensive, it was very difficult to obtain. I was living in Italy, where it was close to impossible to get Rowan - though not to find oodles of other beautiful yarns, as my stash can testify. I spent months trying to find the yarns. In Bristol, we have some of the yarns, but not all. In Manchester, we have all the yarns, but not in the right colours. In London, we have some of the yarns in some of the colours. There were times when I was in despair. I never thought I'd get it done. But I did and it's still worn, almost twenty years later:




It's knitted cuff-to-cuff in two pieces and joined with a three needles bind off up the centre back:




If I was making this now, I'd graft the seam (much as Kitchener Stitch always requires deep breathing and chanting during and wine and chocolate after). It doesn't look too bad, does it?

Yes, I'm still knitting on the "Birch" shawl (co-incidentally, so is Stephanie) and no, there are still no photos. The camera has gone on holiday to Egypt with #1 son and #1 daughter (the sum total of all my numbers) and if it comes back with sand in it my total numbers may well be reduced to a big fat ZERO.