Yes, the jury is back on starting with 3 stitches and working up to 299 or starting with 299 and working down to 3. It is definitely better to start with 299. Why I didn't know this instinctively from the outset no-one can say. Who on earth wants to put themselves through longer and longer rows? I am positively whirling along on the Birch Shawl. There are still no pictures. The camera is still somewhere in Egypt.

In my general flapping about in cyberspace the other day I came upon this lovely afghan (side note: why is it called an "Afghan"? It looks like a blanket to me.)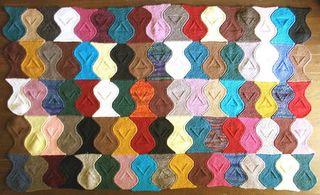 Here's a close-up of the blue fish:





The "recipe" for this delight can be found here.

I think I'm going to have a go. It's not like a haven't got enough on the needles at the moment, now is it?

#1 daughter bought this for 'im indoors:




It's the "Rippit-Rippit" Frog!

You take out the stick and run it along the bumps on the back. Like so:




and he makes that characteristic noise, the fear of all knitters. Rippit, rippit.
I cannot think of a better present for a knitter and I so want this frog! I am allowed to make the noise, though thankfully it hasn't been used too much of late.